Welcome to Ed's original home page!
Note-some links no longer exist-the web is a dynamic place...
Return to Ed's current home page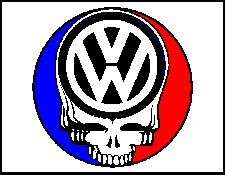 the fight against the DosStar

These are the original pages owned and operated by Edmund A. Hintz and were created exclusively on the Apple Macintosh platform. They are recorded here for posterity-this is what the web looked like back in '94.
Any praise, complaints, gripes, suggestions or otherwise encouraging or disparaging remarks may be directed to the email address below.
Hunter Leroy Hintz my first Son, was born at 5:43, 30 December, 1997!!! Take a look at a couple of pictures.
A eulogy for Tosca.
As you can see by the top graphics, my main interests include Aircooled Volkswagens, Macintosh computers, and the Grateful Dead. Also Opera, which I couldn't figure out how to include in the graphics. ;-) Let's deal with the Volkswagens first, shall we?
I am a member of the Type2 mailing list, a spinoff of the Vanagon mailing list. Both are an odd assortment of nice folks that drive and maintain VW Busses. The Type2 list is dedicated to aircooled busses, while the Vanagon list is in regards to water cooled variations. Other authoritative information about both these lists and VW's on the WWW in general can be found at theVolkswagen Web Server. As of this writing, the oldest bus on the lists is a '52, and the newest are several '95 Eurovans. I drive a '70 Transporter, but I'd love to get my hands on an old split windshield bus... To see what we jabber about, check out the Vanagon Archives . One of our resident master mechanics is known for his sermon-like delivery of the gospel of VW. The Sermons of Bob Hoover is a collection of same, containing hours of enjoyment for the reader.
A few of us drove to Inuvik, North West Territories, Canada- almost the northernmost spot you can drive to in North America. The only spot farther North is Prudhoe Bay, AK, and that's only by around 60 miles or so. Who wants to see a bunch of oilfields, anyway? We did it in the summer of '96 and we called it the Top of the World Tour. I finally got the 13 rolls of film developed, scanned the images, and created the web pages of our journey, check 'em out!

One of my favorite uses for my bus is exploring the outdoors and camping. Much of my camping has been done within the National Park Service Parks, and California State Parks . Since moving to Texas I haven't had much time for getting out, but recently I've had more opportunities to visit some of the Texas State Parks , some of which match the beauty of California's Parks (Can you tell I'm from Cal?).
Another great intrest of mine is the Grateful Dead . Check out the Cal-Berkeley ftp site filled with fun and interesting Dead-related things. Tragically, Jerry Garcia, a founding member of the Dead, died on August 9, 1995. The band decided they would be unable to continue without him, and folded. The San Fransisco Herald and San Fransisco Examiner got together and put up a memorial web page for Jerry. I tend to get a bit emotional when I read some of this.
I came to Austin to study voice at the University of Texas at Austin , where I mostly performed with the UT Opera Theatre. Want to hear a sample? Sample 1 and Sample 2 are from my Jr. Recital. Both are from Rossini's Stabat Mater , the Cujus Animam tenor aria. The 1st is a passage going from C to B double flat, the second is the final cadenza, with a high D flat. Both are 8 bit mono samples from a CD master of the recital. Lately, most of my singing has been with Austin Lyric Opera Chorus.
Opera is a grand form of the arts, combining Music, Theatre, Art (in the set design) and often ballet all in one work. I suppose you either love it, hate it, or have never heard it-seems like there's no middle ground in Opera. For a look at what's being performed around the world, here's a page of Opera Company links .
And to round things out, various & sundry links of interest.

"You may say I'm a Dreamer; but I'm not the only one
I hope someday you'll join us, and the world will live as one
Imagine."
-John Lennon
---
Edmund A. Hintz


ed@hintz.org


the Macintosh Evangelist
Do you believe in Macintosh? Learn how to help the cause by subscribing to the "EvangeList" listserver! Send email to: evangelist@macway.com or go to: http://www.solutions.apple.com/ListAdmin/